Open water sidemount
Open water sidemount diving can be done with one tank or two and gives a great redundancy in terms of independent breathing gas supplies
The open water sidemount course takes a minimum of three days to complete
Basic cave sidemount
Prerequisite for the basic cave sidemount program is to be certified full cave diver or technical diver minimum.
The objective is to learn how to cave dive with an other configuration, using your knowledge of cave diving and learning new skills and theory about side mount.
The basic side mount program takes a minimum of 4 days.
I recommend you to use the Xdeep Stealth system for the course, I use it since 2011.
Advanced cave sidemount
Sidemount has become "just another way to cave dive," it was originally developed to allow cave divers to go places you simply can't fit if using backmount. This type of extreme cave diving remains the goal of some divers. It does, however, requires special training.
This course will help you to be more self sufficient diver, and evolve into smallest cave passage.
This course take a minimum of 4 days
There is plenty of different Sidemount system on the market, but from my own personal experience and since 2011 I'm using the Xdeep Stealth for all type of diving and exploration in the Yucatan Peninsula

Cenote and cave diving
---
Cenotes guiding

First time you are coming in the Yucatan Peninsula ?
The highlight for diving is what we call here CAVERN TOURS. You just need to be an advance open water diver to enjoy the beauty of the cenotes. We start normally around 9am, and go for 2 dives. Most of the dives in the area are shallow (average 10m, 33ft), there is some exceptions like The Pit and Angelita with 30m/100 ft
maximum for us. Just have look at the pictures and sign up for your first diving experience in the cenotes.
Guide cave diving
The Yucatan Peninsula is the number one destination for cave divers. The options for cave diving or almost unlimited.
In back mount, sidemount, using stage cylinder or DPV s , everything is possible, you just need to ask.
All the guide cave dive will be done depending on your actual diving certification.
We have the chance to have here the biggest underwater cave system in the world (Oxbel Ha, Sac Actun and Dos Ojos), so come to visit !

Cave diving training
---
Cave diving training is divided in 3 levels. It can be done in backmount or side mount configuration. If you want to do the course in Sidemount, you need to be a Open water Sidemount diver or follow a 2 days Sidemount program prior the cave class. If you want to realize the course in backmount , and you have no experience in it , it s recommended to take a 2 days Essential program
Cavern diver
Level of initiation into the overhead environment diving. Will allow you to dive in the cavern area with safety. You gone learn how to lay and connect the guide line from the Open water to the cave line, practice the exit in zero visibility and manage your gas supply in the optimum way. The cavern diver takes a minimum of 3 days.
Intro to cave diver
At the Intro level, we leave the day light behind us, we extend our limits to go in the to the dark zone of the cave. Combine with the cavern course it s a 5 day program
Cave diver
The cave course is one of the most complex and complete diving certification. It requires to master all the skills learn at perfection. The cave diver takes a minimum of 3 days.
If you want to complete the cavern, intro and cave course in one go, you will need a minimum of 8 days.


---
Advanced Cave diving
For advanced cave divers, you have the option to get more experience with specialties:
Technical cave diver training
The course push a little bit more your limits in the caves. You need to have as a back ground an advance nitrox certification minimum. This course will help you to understand better how to plan a dive in deep cave using nitrox, oxygen and trimix. A minimum of 4 days is mandatory.
DPV Cave training
This course is designed to teach trained cave divers how to utilize Diver Propulsion Vehicles (DPVs) in the cave environment. Divers will learn about safe DPV use, DPV components, and care and maintenance. You will learn to plan dives that may incorporate extended penetration, longer bottom times, complex dive planning, and proper methods of gas management.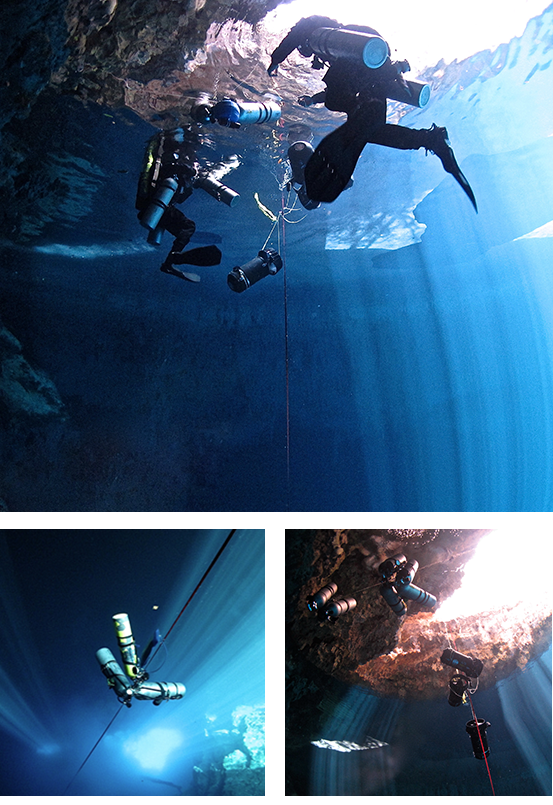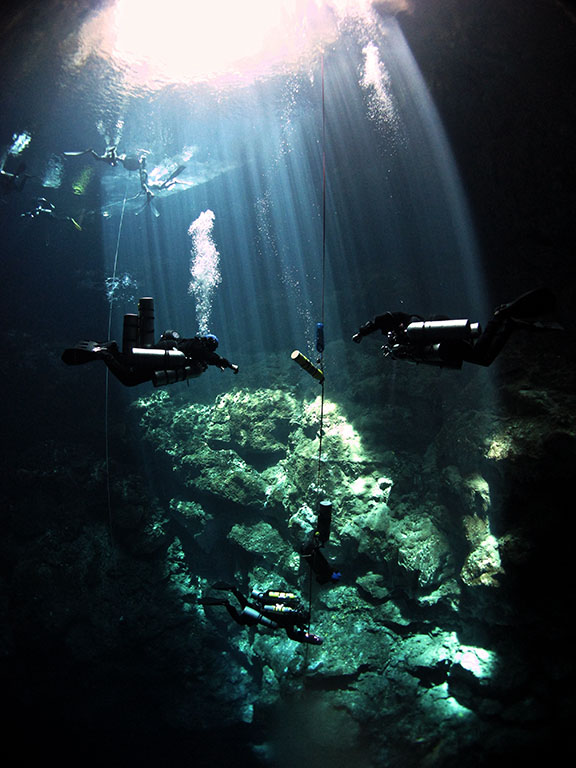 The next step for recreational divers is technical diving.
Essential
It s the first contact you gone have with technical equipment. You can do the course in backmount or sidemount. Depending on your skills you will need 3 to 5 days to complete the course. The course is divide in 3 parts (theory, confined water, ocean dives 30 msw max)
Advanced nitrox
This Program is designed to extend the diver's knowledge in the use of EANx for Sport diving. It further develops diving skills and provides a greater understanding of the EANx concept of diving. .
The Program employs EANx mixes up to 1.5 PO2. 
This program qualifies divers to do dive to 42 msw and do decompression stops required dives up to 15 minutes.
You will need 4 days to complete the course