Dive into adventure
with the best
cave diving
instructor
---
Tristan is an IANTD Technical and Full Cave Instructor with extensive knowledge and experience beyond regular recreational diving. He is a dedicated, professional and passionate Instructor who will challenge and perfect your diving skills beyond what you thought was possible.
Born in Paris, his first breath under water was at the age of ten. Growing up in the "Big Blue" generation, he always loved to be close to the water. With his family, he had the chance to travel every summer to the south cost of France and Corsica. There he did some intro to dive experiences but did not get certified yet. Couple of years later, with his Level 2 Certification of the french federation (CMAS) in his pocket, he had the chance to meet a course director, Pascal Sortelle , who invited him to do his PADI Dive Master course in Egypt , Marsa Alam. There he made some of the best dives in his life and for the first time thought about becoming a full time dive professional.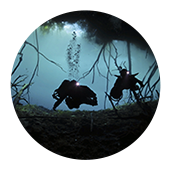 cenote guiding
Are you coming first time to the Yucatan Peninsula ?
The highlight for diving is what we call here CAVERN TOURS. You just need to be an advance open water diver to enjoy the beauty of the cenotes . We start normally around 9am, and go for 2 dives. Most of the dives in the area are shallow (average 10m, 33ft), there is some exceptions like The Pit and Angelita with 30m/100 ft
maximum for us. Just have look at the pictures and sign up for your first diving experience in the cenotes.
---
---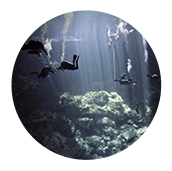 cave guiding
The Yucantan Peninsula is the number one destination for cave divers. The options for cave diving or almost unlimited.
In back mount, Sidemount, using stage cylinder or DPVs, everything is possible, you just need to ask.
All the guide cave dive will be done depending on your actual diving certification.
We have the chance to have here the biggest underwater cave system in the world (Oxbel Ha, Sac Actun and Dos Ojos).
So come to visit !
---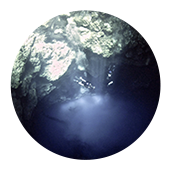 cave diving training
Cave diving training is divided in 3 levels. It can be done in backmount or sidemount configuration. If you want to do the course in SideMount, you need to be a Openwater SideMount diver or follow a 2 days SideMount program prior the cave class. If you want to realise the course in backmount , and you have no experience in it , it s recommended to take a 2 days Essential program.
---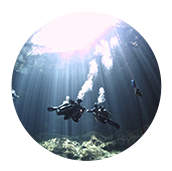 sidemount
Sidemount has become "just another way to cave dive". It was originally developed to allow cave divers to go places you simply can't fit if using backmount. This type of extreme cave diving remains the goal of a some divers. It does, however, require special training.
Open water sidemount diving can be done with one tank or two and gives a great redundancy in terms of independent breathing gas supplies
---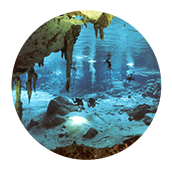 technical diving
It's the first contact you gone have with technical equipment. You can do the Essential course in backmount or sidemount. Depending on your skills you will need 3 to 5 days to complete the course. The course is divided to 3 parts (theory, confined water, ocean dives 30 msw max).

Technical


cave diver
training
---
In 2004, Tristan decided to move on and change his life style. In the same year he did his IDC in Egypt , and started to work as an OWSI together with Pascal Sortelle in Marsa Alam. Since then he traveled around the world from Egypt, to the Caribbean (Dominican Republic), Mexico (Playa del Carmen), then moved to the other side of the world: Maldives, Thailand, Malaysia and finally back to Mexico. During all these years he always wanted to improve his diving skills and constantly searched for opportunities to gain more experience.
He got his first technical diving certification in Koh Tao, Thailand trained by Tim Lawrence. Tim is a BSAC Tec Instructor and owner of the Davi Jones Locker dive shop and is crazy about wreck diving. On April 3rd, 2008 Tristan joined the DJL team for a trip to Malaysia looking for WW2 shipwrecks. They found the HIJMS Hatsutaka an Imperial Japanese mine layer and with this great trip he fell in love forever with technical diving.
Exploring
the underwater
world in the
best way
---
In 2008 he came back to Playa del Carmen to gain further experience doing an IANTD cave course with Patrick. He knew right away then that cave diving will play an important role in his life. Between 2008 and 2011, he worked for a big recreational dive center while at the same time using all his spare time and vacation to be out in the jungle gaining experience in ever more challenging cave dives. In June 2011, he understood that the only way to really improve his skills he had to take a decision RECREATIONAL diving or TECHNICAL diving…… Definitely Technical diving!!! Ever since then he is continuously training and improving gaining experience not only as a diver but as an educator as well

Credentials
IANTD Advanced Nitrox Instructor
IANTD Cavern Instructor
IANTD Intro To Cave Instructor
IANTD Technical Cave Instructor
IANTD Cave Sidemoount
TDI Advanced Trimix Diver
IANTD Advanced Sidemount Diver
IANTD DPV Cave Diver
IANTD Stage and Multi Stage Diver
PADI Staff Instructor
Emergency First Response Instructor
PADI Specialty Instructor
PADI Deep Instructor
PADI Enriched Air Instructor
PADI Digital Photography Instructor
PADI Cavern Instructor
PADI Sidemount Instructor
PADI Night Instructor
PADI Drift Instructor
PADI Wreck Instructor
TDI Advanced Trimix Diver
IANTD Advanced Sidemount Diver
IANTD DPV Cave Diver
IANTD Stage and Multi Stage Diver
Where

will
your next
adventure


take you